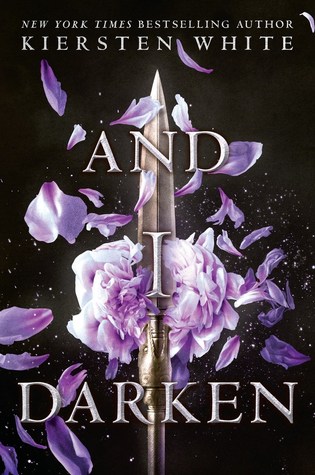 Title:
And I Darken
Author:
Kiersten White
Series: The Conquerer's Saga
Publisher:
Delacorte Press
Publication Date:
June 28th, 2016
Source:
Purchased
Buy the Book:
Amazon
|
Barnes & Noble
|
Book Depository
No one expects a princess to be brutal. And Lada Dragwlya likes it that way. Ever since she and her gentle younger brother, Radu, were wrenched from their homeland of Wallachia and abandoned by their father to be raised in the Ottoman courts, Lada has known that being ruthless is the key to survival. She and Radu are doomed to act as pawns in a vicious game, an unseen sword hovering over their every move. For the lineage that makes them special also makes them targets. Lada despises the Ottomans and bides her time, planning her vengeance for the day when she can return to Wallachia and claim her birthright. Radu longs only for a place where he feels safe. And when they meet Mehmed, the defiant and lonely son of the sultan, Radu feels that he's made a true friend—and Lada wonders if she's finally found someone worthy of her passion. But Mehmed is heir to the very empire that Lada has sworn to fight against—and that Radu now considers home. Together, Lada, Radu, and Mehmed form a toxic triangle that strains the bonds of love and loyalty to the breaking point.
What I thought
And I Darken is a difficult book to define, and if I had to I guess with would be a mix of historical fiction and alternate history. That, my friends, is where things get interesting.That and all the people getting stabbed and court intrigue and the diversity in this book.
I loved this book. It was a little slow moving at times, but it was necessary to forge all the relationships in the book, to let the reader perceive how complicated they truly are. Which is one of the most delicious aspects of this book. Seriously, I will always show up for complicated character relationships. Radu, Lada, Mehmed and the people around them are all a tangled web of intricate character relationships I cannot wait to explore more in further books.
The writing, too, was beautiful. It was very character-centric, which was okay. We didn't always get a super detailed description of the surroundings or things of that sort, because well they weren't really necessary. So, it's all good. I enjoyed being inside Radu's and Lada's head. The two of them were two very complicated people and I love their pretty little hearts for that. The matter of me liking Mhemed is an entirely different one, though.
I've got to say, though, that in the middle there I got kind of frustrated with Lada because I liked her fierce and wild and promising to stab anyone in the vicinity, and she had seemed to have lost just that. She, however, got it back and it was awesome.
I'm looking forward to the next book. Mostly because I can't wait to see everyone grow to their full potential and sort of become the people history remembers them to be (they are after all fictional and can't be the exact same people history remembers them to be).