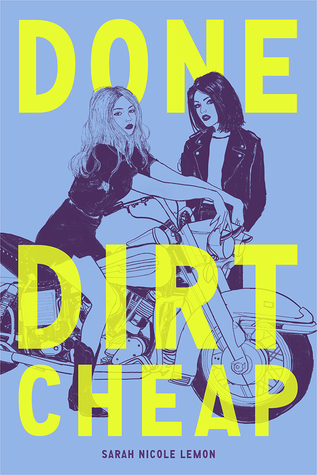 Title:
Done Dirt Cheap
Author:
Sarah Nicole Lemon
Publisher:
Amulet Books
Publication Date:
March 7th, 2017
Source:
NetGalley
Buy the Book:
Amazon
|
Barnes & Noble
|
Book Depository
Tourmaline Harris's life hit pause at fifteen, when her mom went to prison because of Tourmaline's unintentionally damning testimony. But at eighteen, her home life is stable, and she has a strong relationship with her father, the president of a local biker club known as the Wardens. Virginia Campbell's life hit fast-forward at fifteen, when her mom "sold" her into the services of Hazard, a powerful attorney: a man for whom the law is merely a suggestion. When Hazard sets his sights on dismantling the Wardens, he sends in Virginia, who has every intention of selling out the club—and Tourmaline. But the two girls are stronger than the circumstances that brought them together, and their resilience defines the friendship at the heart of this powerful debut novel.
What I thought
You all probably don't know this about me, but I have a soft spot for motorcycles. I don't know much about them, but I like them. So, when I saw two bad-ass girls on the cover with a motorcycle my interest was piqued. I signed up for some serious female friendship and boy, did I find it.
Now, this book is about a motorcycle club, but not really. It's about two girls who are entangled with a motorcycle club, both by birth and by design. Now, these are two young ladies in a world very much defined by the men in it. However, the two grow into queens by their own right and own everything and everyone. #slaymequeens
I found the start of the book a little dragging, but it picked up fast, which I was super happy about. Now, as for the story itself there were some aspects that seemed a little exaggerated (but hey this is fiction, I guess) and hard to believe, but these aspects didn't take away from my general enjoyment of the book.
The writing in this book was beautiful. There were some gorgeous passages about being a girl and fortitude and belonging and being lost. I genuinely wasn't expecting to run into these powerful and beautiful pieces of prose. I had after all, signed up for the motorcycles and the female friendship. Which I got plenty of, but the beautiful prose was a welcome surprise.
I want to talk about the romance, because I feel like some people would probably be a bit uncomfortable with one of the relationships. Namely, because Virginia is only 18 and the guy in question is 28. That's a ten year gap and while it might make some people uncomfortable, I found no issue with it. It seemed like a realistic, completely comprehensible thing to happen. Fact is, people can fall (and do) with people 10 years older than they are and I don't think there's anything controversial about that here. T and Cash are also super cute and I approve.
I really liked this book and I loved the relationship Virginia and Tourmaline formed. I loved the two of them and I enjoyed watching them grow into women by their own right.