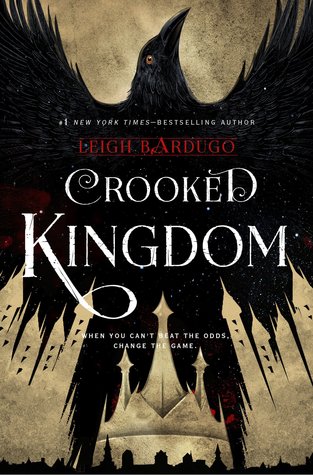 Title:
Crooked Kingdom
Author:
Leigh Bardugo
Publisher:
Henry Colt & Co.
Publication Date:
September 27th, 2016
Source:
Purchased
Buy the Book:
Amazon
|
Barnes & Noble
|
Book Depository
When you can't beat the odds, change the game. Kaz Brekker and his crew have just pulled off a heist so daring even they didn't think they'd survive. But instead of divvying up a fat reward, they're right back to fighting for their lives. Double-crossed and badly weakened, the crew is low on resources, allies, and hope. As powerful forces from around the world descend on Ketterdam to root out the secrets of the dangerous drug known as jurda parem, old rivals and new enemies emerge to challenge Kaz's cunning and test the team's fragile loyalties. A war will be waged on the city's dark and twisting streets―a battle for revenge and redemption that will decide the fate of the Grisha world.
What I thought
Now, it's no secret that Six of Crows was my favorite book of 2015. It was just everything I love in my books: dark, adventurous, just a bit angsty, and it had a cast of characters as complex as real people. All of which are, in my book, excellent qualities to have in a book. So, when it came to its sequel I was as pumped as a little kid for Christmas. I figured it would only be better, bigger and that more heisting would occur. All of which I was ready for. However, I didn't think Crooked Kingdom was as good as Six of Crows. It was pretty damn good, don't get me wrong I loved it, but I love Six of Crows more.
Scandalous, isn't it? I've been breaking my head trying to figure what is it that I liked about Six of Crows more than I liked about Crooked Kingdom. In all honesty, I can't say what it is. I just know that I couldn't put Six of Crows down and I could put Crooked Kingdom down. It was still a super good book but it lacked something. (If you too felt this way please let me know what it was because it's driving me crazy).
That being said, I want to talk about the parts I did love about this book, and believe me there were plenty. So, onward to the gushing and the fangirling!
I loved the character development. I loved how everyone our little band of six people faced their demons and came out better because of it. I love these characters and so, seeing them grow and expand and keep being their complicated little selves only a bit better, was extremely satisfying. I kid you not, I felt like a proud mom at the end of this book.
I loved the character dynamics as well. The relationships these people have with each other are fascinating, and if anything I wish there had been a little less planning involved and much more banter. I wished more conversations had happened in the book. I live for the witty banter and I missed some of it here. However, the way the Dregs look after each other and take care of each other (most of them reluctantly, because a healthy show of concern in the Barrel will get you killed and no one wants that) and are like a tight little odd family.
And of course, Bardugo's writing didn't disappoint. Neither did the little cameos by some of my favorite Grisha trilogy characters. That is all I'm going to say about that, but it was great.
Some things were lacking in this book for me, like more Kaz chapters and more dialogue and I did feel the conflict extended a little too much so by the time the Big Showdown happened I was kind of weary. However, it was still great and awesome and a pretty damn good close to this little duology.