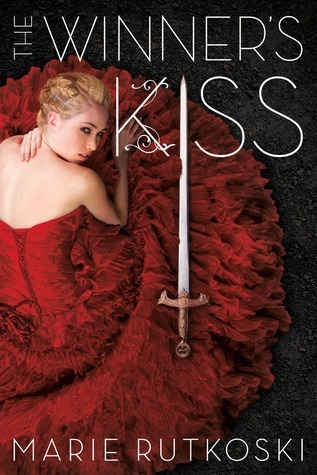 Title:
The Winner's Kiss
Author:
Marie Rutkoski
Series:
The Winner's Trilogy (#3)
Publisher:
Farrar, Straus and Giroux
Some kisses come at a price. War has begun. Arin is in the thick of it with untrustworthy new allies and the empire as his enemy. Though he has convinced himself that he no longer loves Kestrel, Arin hasn't forgotten her, or how she became exactly the kind of person he has always despised. She cared more for the empire than she did for the lives of innocent people—and certainly more than she did for him. At least, that's what he thinks. In the frozen north, Kestrel is a prisoner in a brutal work camp. As she searches desperately for a way to escape, she wishes Arin could know what she sacrificed for him. She wishes she could make the empire pay for what they've done to her. But no one gets what they want just by wishing. As the war intensifies, both Kestrel and Arin discover that the world is changing. The East is pitted against the West, and they are caught in between. With so much to lose, can anybody really win?
Buy the book:
Amazon
|
Barnes & Noble
|
Book Depository
What I thought
There is something you need to know about me and this book. Mainly about me, though, and that is that I only stay up at odd hours of the night reading a book when I can literally cannot bear the thought of not knowing what happens right then and there. It is a thing that I regret the next morning very much, but one that I do not regret as I'm doing it because a girl just has to know if her faves are going to be happy, you know? That was the case with The Winner's Kiss. I stayed up until four in the morning to finish this. Take from that what you will.
I loved this book. I cannot envision this series ending any other way and for me that is as good as a conclusion gets. The reader is satisfied, the characters have met their ends and we can all revisit each other with a smile in the face. No bitter feelings involved, is much more than I can say for a lot of series whose endings left me dissatisfied. That wasn't the case for The Winner's Kiss. Rutkoski delivered on all fronts.
The character relationships were just as complex as they have ever been, the characters themselves were given trials that made them change and adjust and flaunt that strategic expertise that make these books so special. The dialogue was witty and true, honest and raw. The characters, I feel, shone and so did Rutkoski's writing.
Everything was placed in a way that one event led to the other without feeling forced or dragging, despite the quieter moments in the book, of which there are some. It was, all in all, a lovely close to the series and while I'm sad to bid Arin and Kestrel goodbye I couldn't ask for a better way to do so. Now, go pick this book up if you haven't already and stay up late (or early, depending on who you ask) reading it.