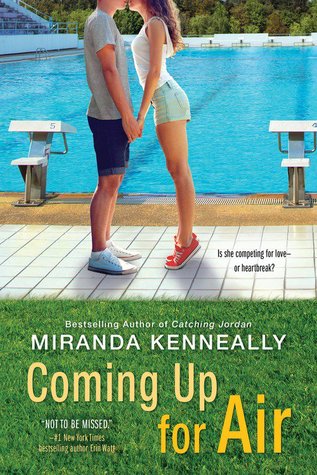 Title:
Coming Up for Air
Author:
Miranda Kenneally
Publisher:
Sourcebooks Fire
Publication Date:
July 4th, 2017
Source:
Netgalley
Swim. Eat. Shower. School. Snack. Swim. Swim. Swim. Dinner. Homework. Bed. Repeat. All of Maggie's focus and free time is spent swimming. She's not only striving to earn scholarships—she's training to qualify for the Olympics. It helps that her best friend, Levi, is also on the team and cheers her on. But Levi's already earned an Olympic try out, so she feels even more pressure to succeed. And it's not until Maggie's away on a college visit that she realizes how much of the "typical" high school experience she's missed by being in the pool. Not one to shy away from a challenge, Maggie decides to squeeze the most out of her senior year. First up? Making out with a guy. And Levi could be the perfect candidate. After all, they already spend a lot of time together. But as Maggie slowly starts to uncover new feelings for Levi, how much is she willing to lose to win?
What I thought
This book is supremely adorable. I mean it, it's very sweet and it features a best friends turned lovers (which I always show up for, as you all probably already know) and tons of swimming talk that I understood little of, but was a nice element to the story.
Maggie and Levi have a beautiful friendship and I loved that aspect of the story. They were friends first and foremost. The secondary characters also had a very nice relationship with the leads, although I wished these relationships could be explored a little more. All in all, a romance book that was big on the main relationship and didn't pay as much attention to the side relationships. I feel like I've abused the word relationship too much and it shall not be mentioned from this point onwards.
The writing was simple, but cute. Also, there were tons of references to YA books, which I loved. Levi is certifiably boyfriend material just because of what he likes to read. I legit want to ask him what he though of The Raven Boys. I enjoyed it, but it wasn't the stuff of beautiful elegant grandoise prose. It was cute and to the point.
I would recommend this book if you're looking for alight contemporary about two people falling in love, and just that.