The middle of the year is upon us! PROCEEDS TO FREAK OUT FOREVER AND EVER!!!! As a result we're halfway through the hell that has been 2017. I'm also a year older now *gasps* and I have read some good stuff during these past six months. Today we're going to talk all about my faves, because you've got to spread the book love, my dudes. On to the books!
1. Ink and Bone by Rachel Caine
In an exhilarating new series, "New York Times" bestselling author Rachel Caine rewrites history, creating a dangerous world where the Great Library of Alexandria has survived the test of time.

Ruthless and supremely powerful, the Great Library is now a presence in every major city, governing the flow of knowledge to the masses. Alchemy allows the Library to deliver the content of the greatest works of history instantly but the personal ownership of books is expressly forbidden.
Jess Brightwell believes in the value of the Library, but the majority of his knowledge comes from illegal books obtained by his family. Jess has been sent to be his family's spy, but his loyalties are tested in the final months of his training to enter the Library's service.

When his friend inadvertently commits heresy by creating a device that could change the world, Jess discovers that those who control the Great Library believe knowledge is more valuable than any human life and soon both heretics and books will burn.
I read Ink and Bone in January (it was actually the first book I read this year) and I LOVED IT! One of my obsessions is the Library of Alexandria and so when I heard this book explored what would have happened if it hadn't burned down I knew I had to read it. This book didn't disappoint for it had all I could ask for and though I haven't read the sequel, I'm sure it's just as awesome.
2. A Little Life by Hanya Yanagihara
When four classmates from a small Massachusetts college move to New York to make their way, they're broke, adrift, and buoyed only by their friendship and ambition. There is kind, handsome Willem, an aspiring actor; JB, a quick-witted, sometimes cruel Brooklyn-born painter seeking entry to the art world; Malcolm, a frustrated architect at a prominent firm; and withdrawn, brilliant, enigmatic Jude, who serves as their center of gravity. Over the decades, their relationships deepen and darken, tinged by addiction, success, and pride. Yet their greatest challenge, each comes to realize, is Jude himself, by midlife a terrifyingly talented litigator yet an increasingly broken man, his mind and body scarred by an unspeakable childhood, and haunted by what he fears is a degree of trauma that he'll not only be unable to overcome—but that will define his life forever.
I was utterly destroyed by this book.
I kid you not, this book was the sort of book that just gets you. The delivery of the story was brilliant, the characters so fleshed out you couldn't help but feel for them. The plot perhaps a bit commonplace but emotional. It was a great book and I loved it so much I still think about it. It's definitely a mature read, but one that's so enriching I would think anyone who hasn't read this is missing out.
3. The Shadow of the Wind by Carlos Ruiz Zafon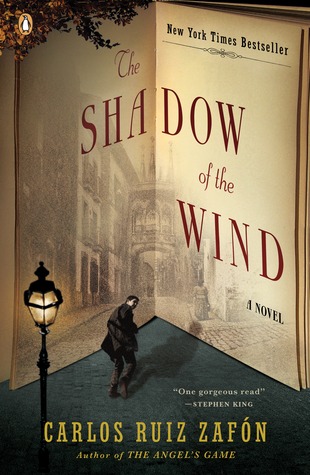 Barcelona, 1945: A city slowly heals in the aftermath of the Spanish Civil War, and Daniel, an antiquarian book dealer's son who mourns the loss of his mother, finds solace in a mysterious book entitled The Shadow of the Wind, by one Julián Carax. But when he sets out to find the author's other works, he makes a shocking discovery: someone has been systematically destroying every copy of every book Carax has written. In fact, Daniel may have the last of Carax's books in existence. Soon Daniel's seemingly innocent quest opens a door into one of Barcelona's darkest secrets--an epic story of murder, madness, and doomed love.
This book I read in Spanish and I loved it. It's again a more mature book, not YA at all, although it does follow a young-ish protagonist. Still, it wormed its way into my favorites for the year. It's just that the story was so compelling and the delivery very interesting and it's one of those novels that just hooks you and holds you and doesn't let you go until you're through with it.
4. Love & Gelato by Jenna Evans Welch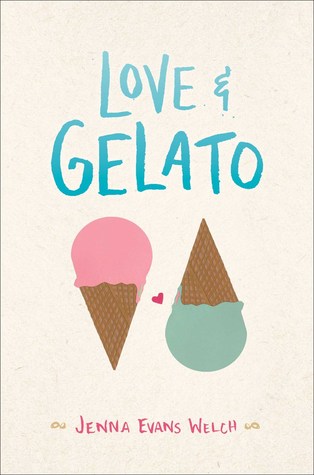 "I made the wrong choice."
Lina is spending the summer in Tuscany, but she isn't in the mood for Italy's famous sunshine and fairy-tale landscape. She's only there because it was her mother's dying wish that she get to know her father. But what kind of father isn't around for sixteen years? All Lina wants to do is get back home.
But then she is given a journal that her mom had kept when she lived in Italy. Suddenly Lina's uncovering a magical world of secret romances, art, and hidden bakeries. A world that inspires Lina, along with the ever-so-charming Ren, to follow in her mother's footsteps and unearth a secret that has been kept for far too long. It's a secret that will change everything she knew about her mother, her father—and even herself.
People come to Italy for love and gelato, someone tells her, but sometimes they discover much more.
This is a cute contemporary set in Italy. I don't know about your reading preferences but in mine this is pretty much a guaranteed read. I'm a sucker for romances set in Italy. Something about it seems so magical and while this book is by no means a great literary masterpiece like say, A Little Life, it's a book that is unapologetic and it's just what it is and I love it for that. This is a book about a girl finding herself and falling in love and it's honest about that. Besides, it's just so adorable you can't help but love it.
5. North of Beautiful by Justina Chen
As he continued to stare, I wanted to point to my cheek and remind him, But you were the one who wanted this, remember? You're the one who asked-and I repeat-Why not fix your face?

It's hard not to notice Terra Cooper.
She's tall, blond, and has an enviable body. But with one turn of her cheek, all people notice is her unmistakably "flawed" face. Terra secretly plans to leave her stifling small town in the Northwest and escape to an East Coast college, but gets pushed off-course by her controlling father. When an unexpected collision puts Terra directly in Jacob's path, the handsome but quirky Goth boy immediately challenges her assumptions about herself and her life, and she is forced in yet another direction. With her carefully laid plans disrupted, will Terra be able to find her true path?
Written in lively, artful prose, award-winning author Justina Chen Headley has woven together a powerful novel about a fractured family, falling in love, travel, and the meaning of true beauty.
I have made it my life's mission to tell the world about this magnificent book. I have loved it since I was very young and I just so happened to reread it this year. I love it as much (if not more) as I did when I read it at 14. It's just so precious and a book about self-love and I cry every single time I read it. It's also about family and being yourself and finding someone who loves you for you and there are parts of it that are so close to my heart. This book sort of feels like coming home and I love that about it.
6. The Name of the Wind by Patrick Rothfuss
MY NAME IS KVOTHE

I have stolen princesses back from sleeping barrow kings. I burned down the town of Trebon. I have spent the night with Felurian and left with both my sanity and my life. I was expelled from the University at a younger age than most people are allowed in. I tread paths by moonlight that others fear to speak of during day. I have talked to Gods, loved women, and written songs that make the minstrels weep.

You may have heard of me.

So begins a tale unequaled in fantasy literature--the story of a hero told in his own voice. It is a tale of sorrow, a tale of survival, a tale of one man's search for meaning in his universe, and how that search, and the indomitable will that drove it, gave birth to a legend.
This book is high fantasy and it's excellent. As a matter of fact, I think it's a great place to start for people who want to get into high fantasy because it's not multiple POV nor does it have a super complex world or set of characters. That and the fact that the writing is great and you are getting a first person POV makes it very readable compared to other fantasy books. It's also just a great book.
7. Long Way Down by Krista & Becca Ritchie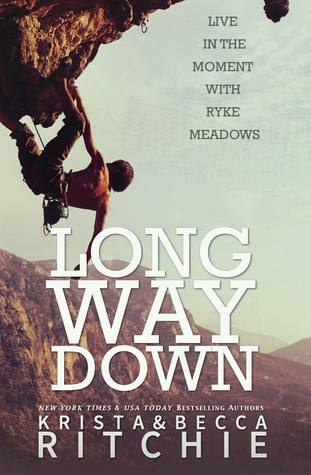 With a seven-year age difference, Ryke & Daisy have faced an uphill battle in the eyes of the world and their families. Known as the most adventurous, fast-paced couple — their next step has always been elusive to the rabid media.
Behind the scenes, heartbreaking troubles continue to test Ryke & Daisy's resilience and shape their future together.

They promise:
To never slow down.
To never compromise who they are.
To never abandon their love for each other.

But preserving their happiness also means adding more risks. Ones that Connor Cobalt wouldn't even take. As a professional free-solo climber, Ryke is no stranger to risk, but his next step with Daisy wagers more than just his health.

With their lives on the line, Ryke & Daisy head towards the vast, wild unknown in this epic final conclusion to the Addicted series.
Dudes, I love the Addicted series/Calloway Sisters Series so damn much, but Ryke and Daisy are my faves. #RaisyIsReal. So, after pretty much binge reading the second half of the series I fell even more in love with these dorks. All of the dorks, I just happen to love Ryke and Daisy most. This series is just so addicting*. So, if you're into New Adult and don't mind mature content these books are such a ride. You won't regret it and by now Damaged Like Us (series following the kids of all of my dorks) will be out and you can binge read all of the Addicted series first and then make your way to Damaged Like Us. I mean, what a great way to spend a Tuesday, tbh.
*I find it supremely ironic that it's titled Addicted series because damn, the accuracy
8. Some Kind of Perfect by Krista & Becca Ritchie
Epilogue Novel of the Addicted / Calloway Sisters series

Falling in love was just the beginning

The conclusion to the epic ten-book series about the unbreakable strength of family, friendship, and love.

Lily & Lo are back one final time. Childhood best friends and soul mates.

Ryke & Daisy are back one final time. Wild risk-takers and flirty adventurers.

Connor & Rose are back one final time. Genius rivals and intellectual teammates.

Ten years of laughter. Of heartache. And love.
I could read a novel about the Addicted gang eating cereal. I kid you not. I would. I would beg Krista and Becca to take my money. That's the kind of love I have for this series. So, really the epilogue novel had to make its way into this list because IT WAS SUCH A BOOK AND I CRIED AND I LAUGHED AND I LOVED ALL OF IT. I loved seeing my babies grow and their shenanigans and their kids and them being parents. Did I mention I cried and squealed like every five pages or so? Because I did. It was beautiful.
actually me when i read this book. half-sad, half-happy. On a side note, I really miss Siwon
9. The Hate U Give by Angie Thomas
Sixteen-year-old Starr Carter moves between two worlds: the poor neighborhood where she lives and the fancy suburban prep school she attends. The uneasy balance between these worlds is shattered when Starr witnesses the fatal shooting of her childhood best friend Khalil at the hands of a police officer. Khalil was unarmed.
Soon afterward, his death is a national headline. Some are calling him a thug, maybe even a drug dealer and a gangbanger. Protesters are taking to the streets in Khalil's name. Some cops and the local drug lord try to intimidate Starr and her family. What everyone wants to know is: what really went down that night? And the only person alive who can answer that is Starr.
But what Starr does or does not say could upend her community. It could also endanger her life.
This book had me shook. It's based on the Black Lives Matter movement and it's also a #ownvoices book. Quite frankly, it was one of the most insightful books I've read so far this year because it deals with something we're living today. As such, I would recommend this book to anyone interested in learning more about the reality of black youth in The United States. As a matter of fact, I would recommend it to anyone because it's just that good.
10. I Believe in a Thing Called Love by Maureen Goo
Desi Lee believes anything is possible if you have a plan. That's how she became student body president. Varsity soccer star. And it's how she'll get into Stanford. But—she's never had a boyfriend. In fact, she's a disaster in romance, a clumsy, stammering humiliation magnet whose botched attempts at flirting have become legendary with her friends. So when the hottest human specimen to have ever lived walks into her life one day, Desi decides to tackle her flirting failures with the same zest she's applied to everything else in her life. She finds guidance in the Korean dramas her father has been obsessively watching for years—where the hapless heroine always seems to end up in the arms of her true love by episode ten. It's a simple formula, and Desi is a quick study. Armed with her "K Drama Steps to True Love," Desi goes after the moody, elusive artist Luca Drakos—and boat rescues, love triangles, and staged car crashes ensue. But when the fun and games turn to true feels, Desi finds out that real love is about way more than just drama.
I love this book so much. I wrote a review about it, which you can read
here
. I'm a big kdrama watcher (?????) so when I heard about this book I was over the moon. KDRAMAS AND A CUTE YA ROMANCE? I was on board faster than the main lead denying his feelings for the girl in a kdrama. I was just so excited and the book didn't disappoint and I JUST NEED EVERYONE TO READ IT AND COME TALK TO ME ABOUT IT BECAUSE I LOVED IT.
What are your picks for best books so far?